Getting a free credit report online is easy, unless you trigger a security alert.  Then you may have to jump through a few hoops to see your report.       TransUnion Chief Operating Officer David Emery says, "95 percent of those who try the online system have no problem. We send out 20 million credit reports a year."  
Yet there are circumstances when you can't get instant information from the online system. We discovered the problem that some encounter when our intern Paul, who asked us not to use his real name, logged on to AnnualCreditReport.com for the first time.     Paul recently graduated from college and moved from his small-town college community to New York City to go to graduate school. He wanted to make sure that information on his credit report is accurate and that no one had stolen his identity.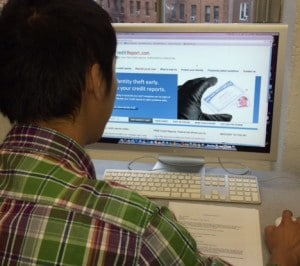 Paul followed the online prompts. He entered his name, Social Security number and address, but then was told he couldn't get his credit report online. So he tried the AnnualCreditReport.com's 800 number and the automated system wasn't helpful either. He was impatient and selected Equifax, another credit reporting bureau, through annualcreditreport. He received the same screen message.  
Continue → Or go to page 1  2  3 Read: How to Improve Your Credit